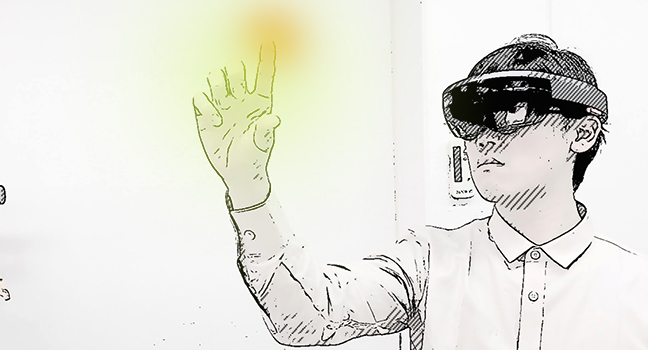 HoloLens is a Head-Mounted Display (HMD) produced by Microsoft.
It can place holographic images onto real world. What's good about HoloLens is that user can interact with holograms.(Differences between AR, VR and MR)
Holograms can be created based on 3D drawing for construction or for a product as well as 2D documents and manuals. Then using HoloLens, we can move, scale and even interact with the 3D virtual object.
HoloLens pushed the technology forward, now MR production becomes more practical. Soon, MR will be seen in our daily life. For example, if MR develops virtual workstation, workers can work even from outside the office.
The HoloLens is equipped with various sensors such as an inertial measurement unit (IMU), "environment understanding" sensors, an energy-efficient depth camera and an ambient light sensor. Developing software and apps based on these already available sensors is feasible.
Various solutions can be developed with HoloLens such as, construction data review and order, learning programs, long distance communication, room makeover simulation...etc. Please contact us if you are considering development with HoloLens.